Pay Transparency Approaches
Pay transparency is a hot topic for employers navigating how best to meet growing demands to close gender and race-related pay gaps, as well as satisfy loyal employees. It can be a difficult needle to thread. How much pay transparency is too much? Should an organization adopt a pay transparency standard?
A new study by compensation software provider Beqom reveals employee perceptions about pay equality have eroded further in 2020-21 as many businesses adapted to the pandemic with work-from-home strategies, reduced work hours, and even temporary furloughs. In its survey just one year earlier, Beqom reported one-third of employees believed their companies had a pay gap, a view that negatively impacts employee retention.
During the latest economic downturn, many pay equity programs had to be put on hold as companies faced growing financial constraints.
Businesses that embrace pay transparency benefit in a variety of ways, not the least of which is by establishing a higher level of trust with employers and co-workers. Trust promotes respect and improves employee retention and loyalty. Top performers know their accomplishments are being recognized.
Pay transparency also helps employers make meaningful progress toward achieving Diversity, Equity, and Inclusion (DEI) goals. And when employers are more open about pay ranges for roles and job levels within their companies, employees can shift their focus to career growth and how to support organizational success.
Arguments against pay transparency include concerns that employees may have resentments if co-workers make more than they do or that failings in the company's compensation, hiring and development systems may be exposed. Furthermore, pay communications can make employees vulnerable to being hired away. As a result, many organizations have rules against discussing pay. It is the author's experience, however, that even with company restrictions, many employees continue to discuss pay among themselves.
Pay Transparency in Focus
When your company decides to proceed with a pay transparency program, organizations have three key decisions to make. The first decision is Why or determining the results to be achieved when communicating compensation. The second decision is What information will be communicated. Finally, the organization must determine the How, which focuses on the ways that pay information will be disseminated to employees.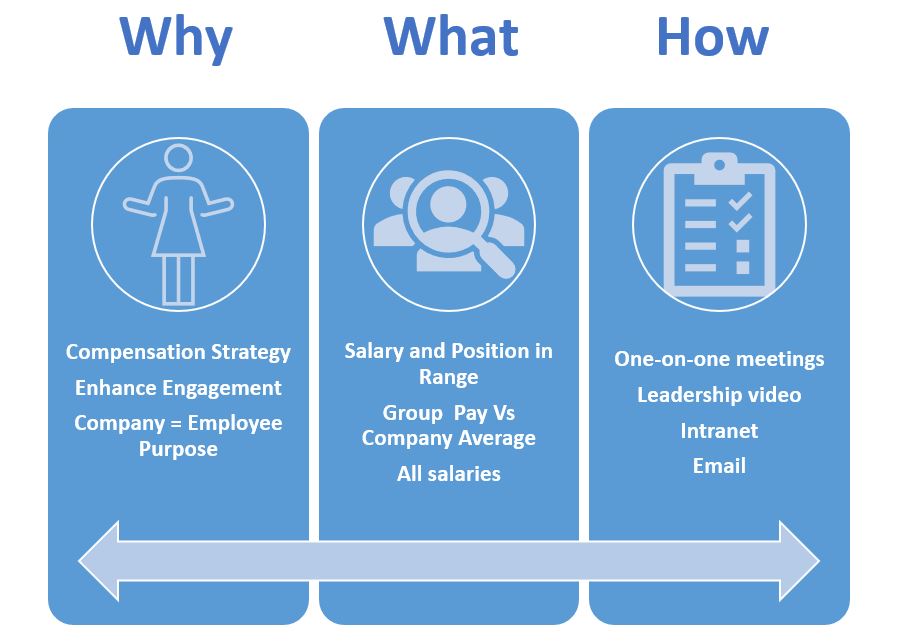 Why options that define goals of your transparency program range from describing compensation strategy to linking company purpose with employee purpose. Other goals include improving understanding of compensation programs, increasing compensation ROI, enhancing employee engagement, and reducing turnover.
Initially, establish only one or two why goals to make your transparency approach straightforward. Be sure to put specific measures in place to determine if goals are met.
Next, determine What will be communicated, which depends on the degree of pay transparency planned. Some organizations only communicate the salary range and position in range for specific roles. Others seeking complete pay transparency reveal all salaries for every employee in the organization.
Additional choices include pay opportunity relative to market, sources of competitiveness information, how pay is determined, your overall compensation budget, specific groups' pay relative to company average pay, and employee pay communication restrictions.
Finally, the How depends on the way the organization typically communicates. Options include one-on-one meetings, group presentations, manager training to enhance ability to explain programs, leadership videos, intranet, email, employee handbooks, and the annual total rewards report.
Summary
Although there can be challenges to successfully implementing pay transparency programs, the dangers of standing pat are even greater. Organizations need to have their compensation programs in order and pay transparency is a growing priority. In fact, the Beqom survey finds 51% of employees would consider switching companies with more pay transparency than their current employer.
Contact Us
If you found value in this article, please share it with anyone you think may also find it of interest. For help or information on this topic, you can email me nlappley@lappley.com or call (847) 921-2812.
https://www.lappley.com/wp-content/uploads/2021/03/business-4576778_1280.jpg
825
1280
Neil Lappley
https://www.lappley.com/wp-content/uploads/2016/07/Lappley.Logo_.F-300x68-300x68.png
Neil Lappley
2021-03-25 01:06:39
2021-03-25 01:21:00
Pay Transparency Approaches