In today's competitive employee marketplace, effective communication of your total rewards package can help be the determining factor in securing high performing employees.
A total rewards program is made up of several elements including compensation, benefits, recognition, performance management, talent development, and work-life effectiveness. There is much to consider when developing and understanding complicated rewards programs. That's why it is so important to communicate them effectively.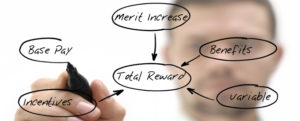 Here are some elements of communicating rewards.
Include All Elements
It's a mistake to communicate only compensation or pay elements of the reward package. As noted above, rewards include other elements than just compensation. Employees often have the mindset that they are doing a job and their organization is paying them to do it. They overlook the other investment their employer is making in them.
So highlight what your company is doing to support their employees other than just what they receive in their paychecks. As a result, if employees recognize what their company is doing to support them, there is a better chance that they will feel a greater emotional connection to the organization.
Bring it Down to a Personal Level
Start the conversation or presentation with more general items. Lead with a discussion of the organization's business strategy and culture and show how the rewards programs support that strategy and culture. Explain the company's human resources strategy and how compensation philosophy is an integral part of that strategy. Then discuss how individual employees are part of the overall strategy and culture and how they contribute to that strategy.
Be Rigorous About Details, Documentation, and Data
Each organization has preferred levels of transparency. But continue to tie communications to the company's compensation philosophy. Explain how, when, and why the company makes decisions as it does, and plan to talk about them regularly, from one-on-one conversations to all-hands meetings. Outline your approach to gathering and analyzing data, which both provides clarity and ease any suspicion that there is bias at play.
Leave no ambiguity as to how individuals can increase their earning potential. And provide a total rewards statement, whether it a report you generate from your compensation software or a simple spreadsheet or word document. Create a report that lists the rewards each employee receives.
Provide Manager Training
Managers are the front line for explaining and administrating compensation. It's often their decisions that affect salary increases and bonus/incentive payments. They need to be confident about having tough conversations about pay with employees. So arm them with details to explain the organization's programs and the information need to back up their decisions.
Contact Us
Contact Neil Lappley to discuss communicating rewards programs or share this post with anyone who may also be interested in these projections.
https://www.lappley.com/wp-content/uploads/2016/07/Lappley.Logo_.F-300x68-300x68.png
0
0
Neil Lappley
https://www.lappley.com/wp-content/uploads/2016/07/Lappley.Logo_.F-300x68-300x68.png
Neil Lappley
2017-09-23 15:32:07
2017-09-23 15:32:24
[Comp Alert September 2017] How to Communicate a Total Rewards Package