Low unemployment and a looming labor shortage means employers have to work harder to attract and retain top talent. Across gender and education levels, salary and benefits are the most important factors when job seekers are choosing an employer, according to research conducted by Randstad North America.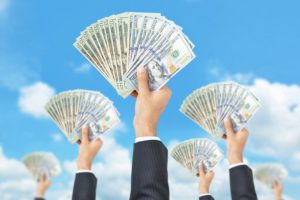 It is becoming a candidate-driven market again, and job seekers have more tools to determine if they are getting paid what they're worth.
A recent survey by Gallup asked the question: "What do workers want most out of their job and their company?" The answer can help companies develop better retention strategies. It can also give insights into why employees may join the organization.
Gallup asked employees how important certain attributes are when considering whether to take a job with a different organization. Although the reasons for changing employers are often multi-faceted and typically include the ability to do what they do best and greater work-life balance, a significant increase in compensation is one of the most important reasons.
A Significant Increase in Compensation
Roughly four out of 10 employees (41 percent) say a significant increase in pay is "very important" to them when considering a new job. Specifically, more male employees than female employees say this factor is "very important". Not surprisingly, more millennials and Gen Xers, than baby boomers, rate this factor "very important" in a job search.
Income matters to people, and organizations cannot overlook its importance. Organizations should ensure that managers have conversations with candidates explaining in great depth the company's compensation strategy and how compensation programs work.Retaining Current Employees
At the same time organizations must focus on retaining current staff, particularly top performers and high-potentials. Most companies address this in several ways:
Developing a Compensation Strategy – Organizations develop a compensation strategy to better understand how pay supports the overall strategy and culture of the company.  A compensation strategy will describe targeted levels of competitiveness for salary, incentives and benefits; the organization's approach to pay for performance; and how pay programs will be communicated.
Compensation Market Competitiveness – Companies regularly assess the competitiveness of their compensation programs by comparing themselves to market. Consideration is given to who they compete with and who they hire from and lose employees to.
Salary Plan – As my colleague Rich Sperling and I have stated in our presentations to senior management and human resource groups, merit increases to top performers and high-potential employees ought to be at least twice the amount given, on average, to fully-competent employees. For example, with an overall salary increase budget of 3 percent, 20 percent of employees can receive an average of 5 percent, while the remaining 80 percent receives an average of 2.5 percent.
Incentive Compensation Programs – Companies are slowing moving to increasing the number of variable pay plans for two important reasons: 1) to reward employees for achieving corporate-driven objectives, and 2) to reduce fixed costs.
Now is a good time to review your organization's compensation strategy and determine if its goals are being met. If yes, great and continue on track. If not, re-evaluate your compensation strategy to determine if it remains appropriated and review pay programs to ensure they are in accord with your strategy.

Contact Us
Please contact me at nlappley@lapppley.com or (847) 864-8979 to discuss any questions you may have from this eNewsletter. Feel free to forward this email to anyone else who may be interested.
https://www.lappley.com/wp-content/uploads/2016/07/Lappley.Logo_.F-300x68-300x68.png
0
0
Neil Lappley
https://www.lappley.com/wp-content/uploads/2016/07/Lappley.Logo_.F-300x68-300x68.png
Neil Lappley
2017-03-17 12:24:39
2017-03-17 12:24:39
[March 2017 Comp Alert] Cost of Not Paying to Market