[SEPT 2016 COMP ALERT] Incentive Pay Outpaces Salary
As we communicated in last month's eNewsletter, salary increase budgets are expected to remain at 3 percent for 2017. Employers are turning to variable pay to reward employee performance.
The percentage of companies using variable pay vehicles, such as annual or quarterly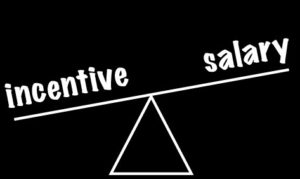 incentives based on individual, team and organizational achievement, rose to 84 percent in 2016, reports WorldatWork in their most recent survey of its members. This number has been hovering around 80 for many years.
A combination of awards based on individual, business unit, and organizational performance continues to be the most prevalent type of variable pay program.
Types of Variable Pay Programs 
The percentage of participants who indicated that their organization uses all three, or just one or two, of these programs is shown below. Some employers offer multiple variable pay programs covering different employee groups.
| | |
| --- | --- |
| | |
| •Combination of awards (organization/unit and individual): | 70% |
| •Organization-wide awards: | 28% |
| •Individual incentive awards: | 23% |
| •Unit/strategic business awards: | 17% |
In deciding whether to offer a combination of variable pay programs or to provide awards only for business unit or individual performance, it is important to answer this question: What do we want to accomplish with our variable pay programs? In some organizations, different employee groups are motivated by different rewards strategies. In other cases, a company may have an overriding culture of winning or losing together, in which case a common incentive program for all employees will support that.
Also, employers should keep an eye on the practices of companies with which they compete for talent.
Variable Pay Program Budgets 
Most organizations that have a formalized incentive program budget, as it often includes sizeable cash expenses. Survey respondents differentiated their current and planned variable pay awards representing a percentage of base pay, by employee classification.
Nonexempt
Nonexempt
Exempt
Officer/
Year
Hourly (nonunion)
Salaried
Salaried
Executive

2016 Projected

Percent Paid

5.00%
5.00%
11.80%
34.50%

2017 Projected

Percent Paid

 5.00%

5.00%
12.00%

35.00%
Companies striving to be known as an employer of choice often offer incentives at lower levels to attract better talent or to attract high performers at above market pay rates, which aids in retention. But always check with the objectives that you want to accomplish.
Contact Us
Please contact me at (847) 864-8979 or at nlappley@lappley.com to discuss variable pay programs.  And forward this email to anyone who may also be interested in these projections.
https://www.lappley.com/wp-content/uploads/2016/07/Lappley.Logo_.F-300x68-300x68.png
0
0
Neil Lappley
https://www.lappley.com/wp-content/uploads/2016/07/Lappley.Logo_.F-300x68-300x68.png
Neil Lappley
2016-09-15 16:54:32
2016-11-27 23:07:44
[SEPT 2016 COMP ALERT] Incentive Pay Outpaces Salary