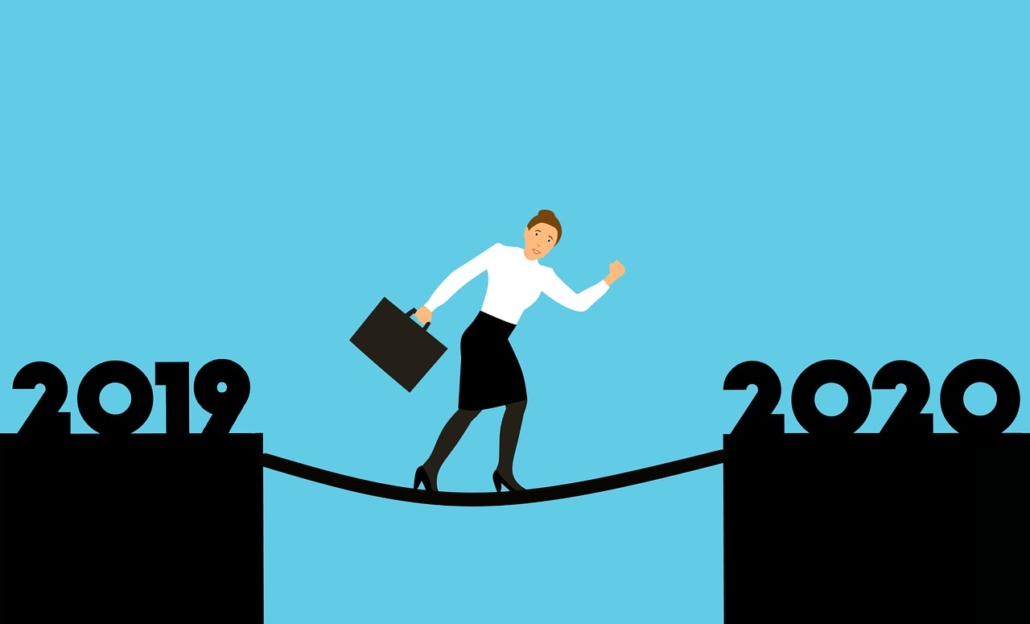 Despite uncertainty about where the U.S. economy is heading, recent salary surveys from compensation consulting firms reveal that salaries are expected to either increase slightly or hold steady versus 2019 salaries. In this issue of Compensation Alert, we look at how companies are planning to deal with 2020 salary budgets to remain competitive and retain top talent.
Survey information was gathered from human resource professionals facing an extremely tight labor market, increased investment in pay equity adjustments and climbing minimum wage rates. What's more, many economists are predicting slower economic growth and greater risk for a possible recession within the next two years.
Under these conditions, participating organizations in this year's salary surveys provide crucial insights into how companies are budgeting for salary increases in 2020.
WorldatWork
WorldatWork survey participants report that in 2019 salary budgets grew slightly to 3.2% average (median 3.0%) meeting last year's projections. They expect salary budgets overall to increase to 3.3% in 2020. Specific pay increases are expected to be:
3.2% for exempt salaried workers,
3.3% for officers and executives,
3.1% for nonexempt employees, and
3.2% for nonexempt hourly.
In addition, pay equity continues to be a significant issue to organizations. The WorldatWork survey finds that 42% of participants plan to budget for pay equity increases in 2020, up from 37% in 2019. When pay equity adjustments are not budgeted, 46% of respondents report that company savings will be used for adjustments in 2020.
Promotional increases in 2020 are projected to average 8.9%, up slightly from 2019. The portion of salary increase budgets attributed to merit are projected at 3.0%. Not surprisingly, the largest increases in salary budgets are from the East Coast (Washington DC and Boston) and the West Coast (Denver, Portland, San Diego and San Jose). In 2019, the reported average salary structure increase was 2.2%.
Willis Towers Watson
According to the 2019 Willis Towers Watson General Industry Salary Budget Survey, salary increases are expected to hold steady in 2020. The survey reveals increases of:
3.1% for exempt and non-management employees,
3.1% for management employees,
3.0% for nonexempt hourly workers,
2.9% for nonexempt salaried employees, and
3.1% for executives.
The survey finds that employers will continue to reward star performers larger increases than average performing employees. According to the survey, the highest performing employees were granted an average increase of 4.6% in 2019, about 70% higher than the 2.7% increase given to those receiving an average increase.
To retain your best workers, as compensation consultants we have long advanced a minimum increase for star performers should be at least two times the increase to average performers. Although the differential has crept up over the past few years, it still has not reached a minimum ideal level.
Mercer
Mercer's findings are consistent with WorldatWork's 2019-2020 Salary Budget Survey. While overall salary increases were 3.5% in 2019, they are projected to be 3.6% in 2020. Survey results show that merit increases for 2019 were at 2.9%, while mean and median merit increases are expected to be 3.0% for 2020.
Additionally, the Mercer survey found that there was no change in the number of employees receiving promotional increases in 2019. The average promotional increase was 9.3%, slightly more than the 8.9% increase recorded by WorldatWork.
Further findings reveal organizations continue to use performance ratings to differentiate salary increases, although a small portion do not use performance ratings (14%). Among this small group, the majority distribute merit pay based on manager discretion with oversight by business leader or HR/compensation.
The survey also finds that high performers received 1.6 times the salary increase of average performers.
Payfactors
The Payfactors salary survey provides detailed responses for U.S. and Canadian employers, with data broken out by industry, revenue, organization size, region and state.
According to the Payfactors survey, average salary increases in 2020 are expected to be:
3.2% for exempt employees,
3.2% for exempt (non-management) employees,
3.2% for managers, and
3.1% for officers and executives.
Industries reporting higher expected increases include professional services, pharmaceuticals, software, technology, metals, and oil and gas. Industries expecting lower increases include retail, not-for-profit, hotels and restaurants, banks and aerospace. The survey shows little difference in average increases by region.
Salary.com
According to its annual Salary.com Salary Budget Survey, median annual salary increases are expected to remain flat at 3.0% for 2020. The salary.com survey average salary increase is significantly lower than the salary increases predicted in prior cited surveys. Although different survey methodology may be present, also likely at play are different survey populations.
Variable Pay Programs Becoming More Important
After reviewing the results of these top-rated surveys, it is apparent that many organizations are struggling to remain competitive on salaries to attract and retain top talent. That's why many are moving towards variable pay programs. Rather than investing in long-term, fixed salary programs, companies are focused on rewarding and retaining top talent via pay-for-performance incentive programs. Along with improving employee engagement and reducing turnover, another benefit to these programs is stronger market competitiveness.
How Do You Determine Your Salary Increase Budget?
Clearly, predicted market increase budgets are only one input to weigh when deciding on your salary increase budget for 2020. To begin with, it is important to distinguish between your competitiveness goal and your overall compensation strategy. Next, examine how far above or below that goal your current salaries are. Finally, evaluate how close your company can come to meeting your 2020 salary goal based on available funding.
One final point to consider: recessions are inevitable. Organizations that take strategic compensation and human resources actions in advance of these downturns will be better positioned when the economy turns around.
In Summary
Please contact me at (847) 921-2812 or nlappley@lappley.com if you would like to discuss this topic further. In addition, you can read more on this topic at lappley.com. Please share this article with anyone who think may be interested.
https://www.lappley.com/wp-content/uploads/2016/07/Lappley.Logo_.F-300x68-300x68.png
0
0
Neil Lappley
https://www.lappley.com/wp-content/uploads/2016/07/Lappley.Logo_.F-300x68-300x68.png
Neil Lappley
2019-08-28 20:57:07
2019-08-28 20:57:07
2020 Salary Budget Increases